Gentle Children's Dentistry
At North Vernon Dental, we help children build a foundation for great oral health with positive dental experiences at an early age. We love showing kids that going to the dentist is a breeze by providing children's dentistry that is gentle, patient, and compassionate. We've seen time and again how kids who grow up unafraid of the dentist end up enjoying a lifetime of healthy, beautiful smiles.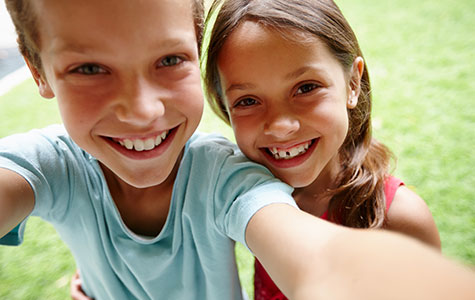 Children's Dental Treatments
We offer the following dental services for children:
Teeth Cleanings
Routine Exams
Fluoride Treatments
Dental Sealants
Athletic Mouthguards
Tooth Extractions
Children's Dentistry FAQ
When should my child first see the dentist?
The recommendation of both the American Academy of Pediatrics and the American Academy of Pediatric Dentistry is that you bring your child to the dentist for their first appointment by the time he or she is 1 year old. It's important to establish a dental home for your kid while they are still young so that they can develop positive associations with the dentist from an early age, setting the foundation for years and years of excellent oral health.
---
What if my child is afraid of the dentist?
Here are some easy strategies to help get your child ready for his or her dental appointment:
Schedule a meet and greet with the dentist. You are more than welcome to bring your little one into the office to meet Dr. Desai, Dr. Sitaram, and/or Dr. Weida. We find that it helps some children to become familiar with the office and the staff so that they know exactly what to expect when it's time for their real appointment.
Avoid negative stories or comments about the dentist. While it may seem like you're comforting your child to say things like, "Don't worry, it won't hurt at all!" this can actually have the opposite effect. Your child might associate "hurt" and pain with the dentist, so it's best to not even bring up the idea to begin with. It's also important that you don't transfer any negative feelings you may have about the dentist by sharing your own horror stories. Keep it light and positive!
Take advantage of our office amenities. North Vernon Family Dental has toys, books, and games for kids as well as TVs throughout our office. Showing your kids these amenities can help them feel more at home and relaxed before their appointment.
Bring your child's favorite toy or blanket. Sometimes snuggling up with that favorite blankie or stuffed animal can make children feel safer while in the dental chair.
---
Does my child really need to get X-rays taken?
X-rays are more than just standard technology dental care — they're a vital tool in tracking tooth development, detecting bone disease, treating injuries, and planning orthodontics. While we perform visual examinations, there is still much more we can learn about someone's oral health that would be otherwise hidden from the naked eye. The American Academy of Pediatric Dentistry actually recommends that X-ray exams be performed every six months.
We want to reassure you that the amount of radiation in a dental X-ray is extremely minimal. Our office also uses digital X-rays, which emit even less radiation than traditional X-rays. We take every precaution when your child is in our care.
---
What are dental sealants?
Dental sealants are essentially a plastic coating that we paint onto the surface of kids' molars and premolars. Those back teeth are the ones used to chew food, which means they're also ones prone to develop cavities. A sealant fills in all those little grooves on the tooth's surface, making it harder for bacteria to get stuck there. While sealants can be used with adults too, they're especially helpful for children who might find it more difficult to clean those hard-to-reach areas.
Make Appointment